Posts
https://highlandhunting.com/wp-content/uploads/2014/10/Highland-Hunting-Preserve-Logo-240px.png
0
0
Highland Hunting
https://highlandhunting.com/wp-content/uploads/2014/10/Highland-Hunting-Preserve-Logo-240px.png
Highland Hunting
2022-06-30 10:13:23
2022-06-30 10:13:23
HERO Sporting Clay Shoot 2022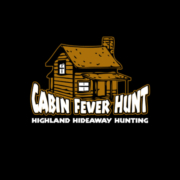 CABIN FEVER HUNT 2023
Come on out and join us at Highland Hideaway Hunting for our annual  Cabin Fever Hunt on Saturday, March 25th 2023.
We are excited to be hosting this annual tradition!
We will have some great give-a-ways, great food, and most importantly a great time!
Stay tuned to this page and our social media for additional details.
Event Details:
Location: Highland Hunting LLC
Date: March 25th, 2023
Cost: $850.00
5 Person Teams
Reservations: There is a $100 Deposit to reserve your space
Three different time slots for hunting  8am, 11am, 2pm
Each Entry Fee Includes:
2.5 hour hunt
Shotgun Shells for the event
Great Chili lunch
Door prizes and give-a-ways
Awards ceremony and dinner after the hunt (typically around 5pm)
Click HERE for more details
https://highlandhunting.com/wp-content/uploads/2022/01/Cabin-Fever-Hunt.jpg
400
400
Highland Hunting
https://highlandhunting.com/wp-content/uploads/2014/10/Highland-Hunting-Preserve-Logo-240px.png
Highland Hunting
2022-01-10 12:58:45
2023-01-30 20:20:25
Cabin Fever Hunt 2023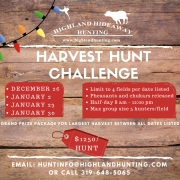 Looking for a great way to get out of the house, social distance while spending time with family and friends?  This fun special event is a great way to make all of this happen!
New for this year we are offering the Harvest Hunt Challenge, and it's that simple.  We are offering 4 fields over the course of 4 different Saturdays.  The group with the highest bird harvest at the end of this event will receive an awesome gift package that our staff has put together!
Event Details:
4 separate dates to give plenty of availability, book any of the listed dates to enter this event.
Groups of up to 5 hunters
$1250 per hunt
Group with the largest harvest wins
Space is limited so please sign up soon.
https://highlandhunting.com/wp-content/uploads/2020/12/Harvest-Hunt-2021.jpg
1080
1080
Highland Hunting
https://highlandhunting.com/wp-content/uploads/2014/10/Highland-Hunting-Preserve-Logo-240px.png
Highland Hunting
2020-12-01 16:29:43
2020-12-08 06:39:33
Harvest Hunt Challenge
Events
Sorry, no posts matched your criteria